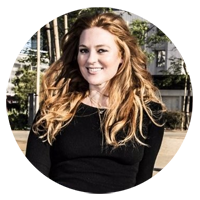 Motivational leader with entrepreneurial background and proven ability to increase consumer engagement and realize profit margins. Evolve start-up priorities to adapt to complex trends as well as building and retaining empowered teams in global arena. Resourcefully orchestrate big moves and partnerships; leverage strong relationship cultivation expertise to adeptly position for opportunities. Skilled in identifying pathways to positive outcomes. Ingenuity in blending strategy, analytics, marketing, and technology. Thrive in fast-paced environments. Background working with CEOs, administrative staff, managers, entrepreneurs, physicians, attorneys, politicians, A-list celebrities, and government officials. Remarkable depth of experience across all stages of strategic partnership developments: including as a Business Development Executive, Founder / CEO, Coach, Advisor, and Consultant.
Megan received an MBA in Global Strategic Management in 2008. Shortly thereafter, she started her matchmaking career at Kelleher International, (a leading US matchmaking firm). After working for Kelleher International for two years, Megan moved to London and started her own matchmaking business, Match d'Amour, with world-renowned business angel and TV personality, Richard Farleigh. During this time, Megan developed a unique international scouting program that changed the nature of the matchmaking industry. Megan has since started two new companies, The Matchmaker's Circle and The Matchmaker Exchange, that focus on bridging the gap between the online dating industry and the offline matchmaking community.
Megan is an experienced world traveler, and has lived in many different countries. She is bilingual and has dual citizenship, as a French citizen. Megan grew up as a strong competitive tennis player and horseback rider. Megan moved back to the States in 2013, and has continued her passion for the matchmaking business by combining the beauty of technology with matchmaking.